Proud to Support the Alzheimer Society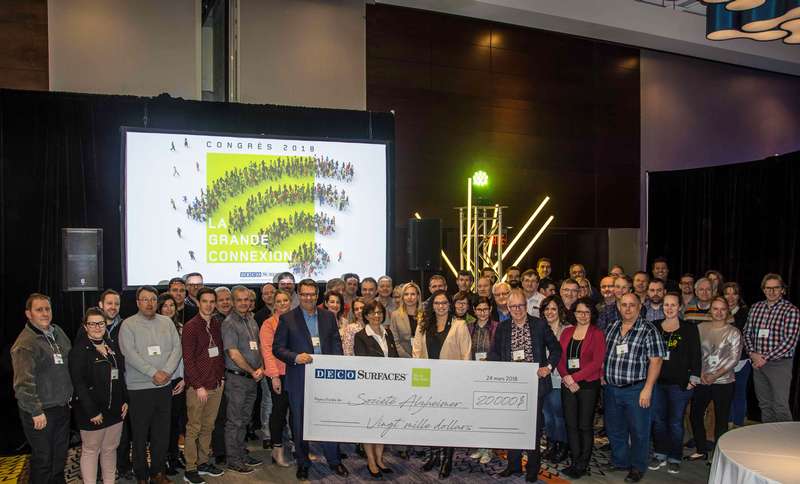 Above: Deco Surfaces merchants are proud to donate $ 20,000 to Ms. Lisette Joly and Ms. Nouha Ben Gaied of the Alzheimer Society.

On March 24th, during our 2018 annual convention, the 70 merchants of our network announced their association with the Alzheimer Society. We are proud to support a cause that is close to our hearts and to partner with an association that offers concrete solutions to support people with Alzheimer's disease. This disease currently affects 141,000 people in Quebec alone and 564,000 in all of Canada.
It was with a smile on their faces that our merchants donated $ 20,000 to support the development of a new pilot project in Canada, BrainHQ, a cognitive training program. This program is a unique, evidence-based program that delivers exceptional results in slowing down the cognitive decline and maintaining the remaining functional abilities of people living with Alzheimer's disease.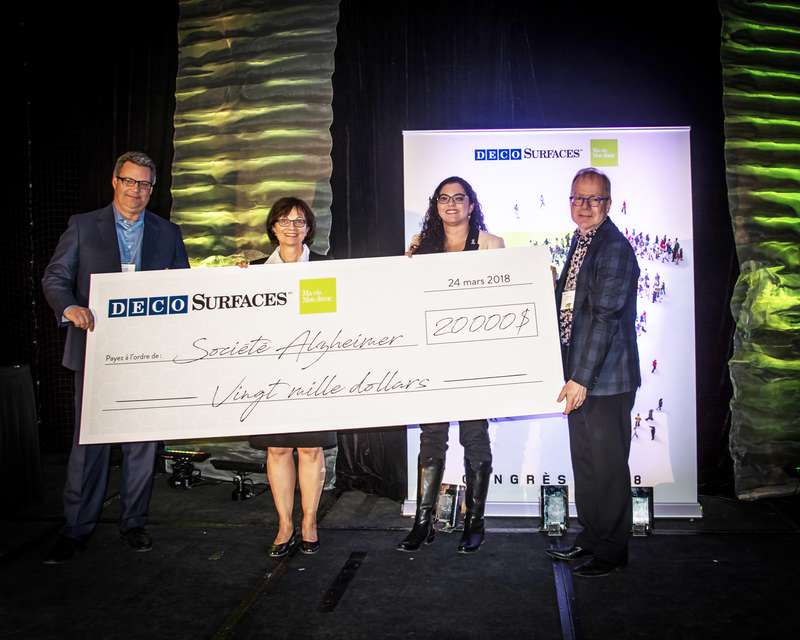 Above: (from left to right) Mr. Jacques Cloutier, Executive Director of Deco Surfaces Canada, Mrs. Lisette Joly, Chair of the Board of the Alzheimer Society, Mrs. Nouha Ben Gaied, PhD, Director of Research and Development for the Alzheimer Society, Mr. Yvan Pelletier, Chair of the Board of Deco Surfaces
"The Alzheimer Society warmly thank Deco Surfaces, as well as all their merchants and associates, for this generous donation. In the context of an aging population, the number of people living with Alzheimer's disease will continue to increase, and we must put in place concrete measures to try to prevent and, perhaps, slow down the onset of the first symptoms, "says Mrs. Lisette Joly, Chair of the Board of Directors of the Quebec Federation of Alzheimer Societies.
The number of people with the disease is expected to increase of 66% over the next 15 years to reach 937,000 in 2033. Today in Canada, more than 1.1 million people are affected directly or indirectly by the disease. (Source: http://alzheimer.ca/en/Home/About-dementia/What-is-dementia/Dementia-numbers)
Thanks to donor support, the BrainHQ program can be implemented in several Alzheimer Society locations of Quebec and, eventually, in all Alzheimer Societies of Canada.
ABOUT ALZHEIMER SOCIETY
For more than 30 years, the Alzheimer Societies have represented, supported and defended the rights of 141,000 Quebecers and more than 564,000 Canadians living with Alzheimer's disease and other neurodegenerative diseases as well as their caregivers. Alzheimer Societies offer their patients and their caregivers, through programs, services and training, both the support and supervision needed to enable them to maintain the best possible quality of life. Additionally, Alzheimer Societies educate the general public about the personal and social consequences experienced by people with Alzheimer's disease and help support research into causes, treatments and cures.
Effort will be deployed shortly at your local Deco Surfaces store. Locate your merchant to ask about local support by clicking here.
For information: http://www.alzheimerquebec.ca
Facebook: @LaFederationQuebecoiseDesSocietesAlzheimer
Twitter: @FqsaAlzh
Instagram : @fqsaalzh