How to create the perfect waiting room?
By Sabrina Auger
Designer at Les Créations Réka (www.creationsreka.com)
Spending time in a waiting room is certainly not everyone's favourite activity. On the other hand, it is possible to make this moment pleasant. How? It's all about decor and atmosphere!
The ultimate goal: user-friendliness
You are a professional and would like your clients to live a beautiful moment while waiting in your premises? It is very much to your credit! What you need to keep in mind is that the décor of your waiting room should be warm, friendly and relaxing. The more it will be, the more the customer will be in a positive state of mind when his turn comes... and will forgive you easily if you are a few minutes late! Colours, textures, lighting and choice of accessories are not to be neglected. Don't know where to start? Follow the guide!
The choice of furniture
For those who want to read or simply relax, an area of armchairs and a fireplace then become very appropriate. Loveseat, sofa or chair, the seats must be as ergonomic as possible. If necessary, it is clever to add cushions to improve comfort. The presence of a workspace with a table and lighting will change the perception of waiting time and add professionalism to the room. In addition, customers will appreciate a free internet connection as well as the presence of a water fountain and a coffee machine.
What to display on the walls?
Walls with different textures will make an impact at first glance. It is possible to create distinct areas and visual separations with wallpaper, frames, ceramics or simply paint. What is important is to respect continuity between all the elements put in place. You fall in love with an accessory or piece of furniture? Why not design the rest of the decor from this object. Do not hesitate to visit a Deco Surfaces store for advice.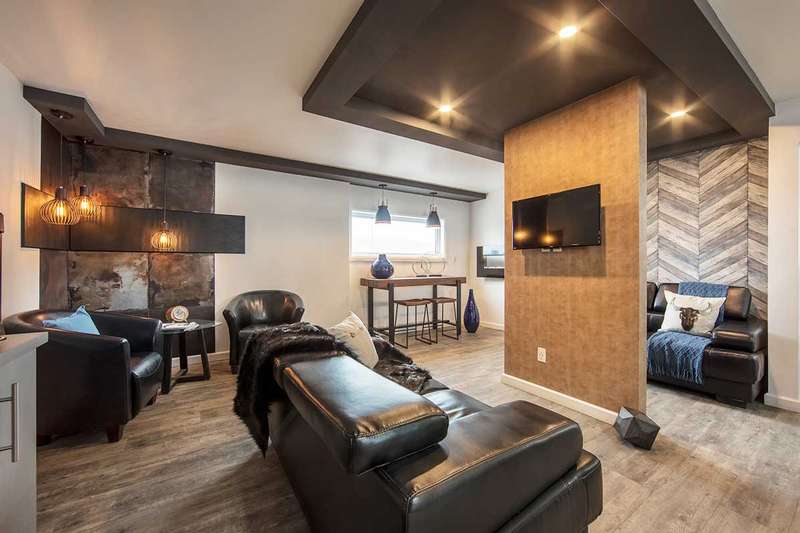 On the walls or on the floor, different textures harmonize perfectly.
What is the ideal floor covering?
Floor covering will play an important role in the decor of your waiting room. But in addition to its appearance, its practicality is not to be overlooked. Indeed, in a public place, whether it is sparsely or heavily frequented, materials that require little maintenance are preferred. To do this, you can choose a color that forgives imperfections or dirt. Often, the right choice is a matte or textured colour, neither too light nor too dark. Several types of floor coverings can be used depending on your needs. These include rugs (tile or commercial) that are practical because of their soundproofing properties, or ceramics that will withstand impact and humidity. If you choose a wooden floor, be aware that the laminated floor may keep its appearance longer than hardwood floor, since its surface is harder and will be more difficult to damage. Thanks to its ease of maintenance and high resistance, vinyl (in rolls or planks) is also perfect for a waiting room. The choice of colours and styles available in store is impressive and matches all types of decorations.
Well thought-out lighting
To create a comfortable atmosphere, it is good to choose different light sources. For example, a floor lamp or a suspended luminaire in one area, recessed luminaires with varying degrees of light in another, or a chandelier in the centre of the room. The latter will also serve as a focal point in the set. If you have windows, it can be interesting to use this natural light to create a more dynamic corner.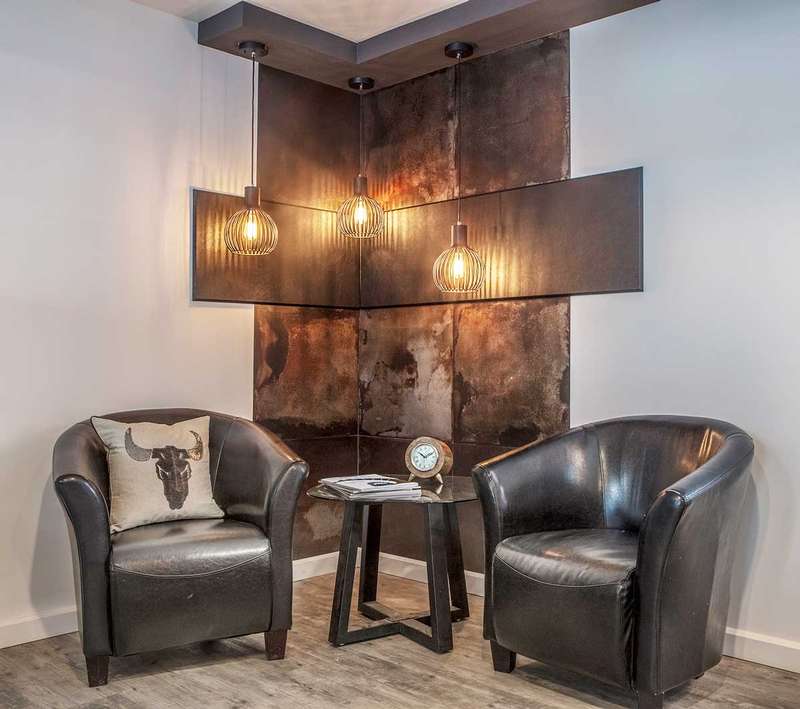 These suspended luminaires offer a felted atmosphere that inspires relaxation while adding elegance to the room.
Which colours should be used?
For furniture and walls, it is wise to choose colours that are felted and neutral, such as white or black. Then, achieve a livelier décor by accessorizing with more bright elements, for example blue or green. These two colours inspire calm and well-being.
Accessorize: a must!
Finally, accessories are not to be neglected. Judiciously chosen, they will create a glow in the room and help precious customers to have a good time. Flowers, vase, canvas, Buddha sculpture, candles with a sweet perfume, magazine basket... Go there sparingly without forgetting that this space is commercial and should not be too personalized. A word of advice: avoid clocks!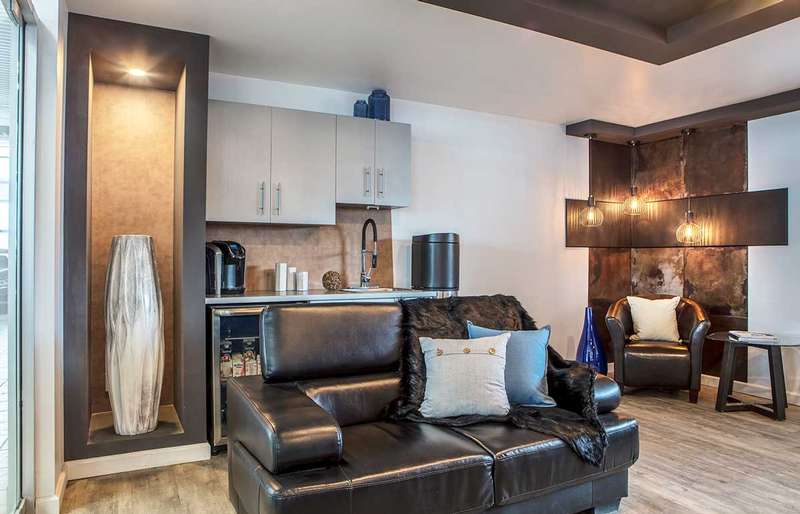 In this setting, a wall alcove decorated with a vase creates a visual impact that is both refined and flashy.
Good waiting... or rather, good relaxation!