Ceramics and its many possibilities!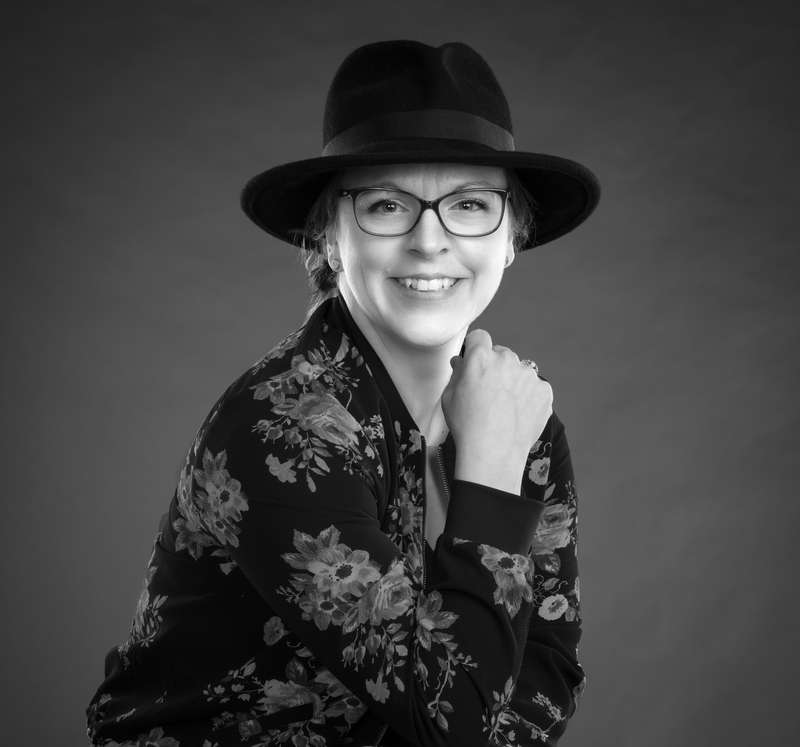 By Geneviève Demers
Designer at Les Créations Réka (www.creationsreka.com)
The days when ceramic tiles were only found in bathrooms are long gone. Designer Geneviève Demers from Les Créations Réka is well aware of this! In her 20-year career, she has seen the use of this product evolve. Now, she believes that ceramic tiles are a must in our homes.
Why do you think people think about the bathroom when it comes to ceramic tiles?
It is the first material used in bathrooms, even today, because it is a waterproof product that does not react to humidity. But ceramic tiles can now be a key element in any décor, regardless of the room in the house.
How can it be used to make a room unique?
There are so many shapes, sizes, textures, patterns, and colors available that it is possible to create a beautiful effect at a glance. For example, I think of an accent wall in a bedroom, a decorative wall in the entrance or an insert for the kitchen backsplash. I like to say that ceramic tiles are today's wallpaper. It can even cover a fireplace mantle.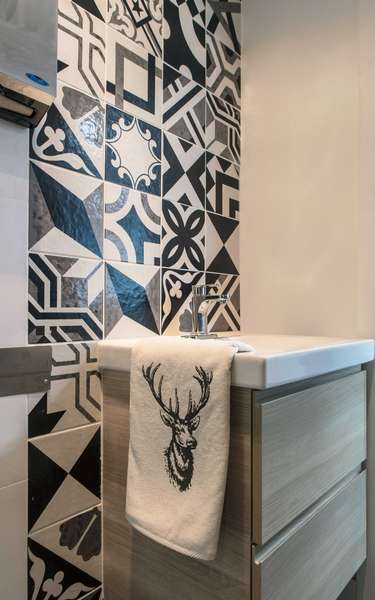 This patterned ceramic adds an artistic touch to the powder room. A single wall was enough to set the tone.
Can ceramic tiles be installed on the ceiling?
It's quite rare, but some customers like the idea. But I'm not sure the installers agree (laughs)! If a customer wants to install ceramic tiles on the ceiling, I recommend a small area, for example, in a shower.
What advice would you give for a kitchen backsplash?
A low-porosity ceramic tile should be chosen to prevent it from becoming too easily soiled or stained due to food splinters or grease. So it must be smoother and have fewer textures. On the look side, there are several trends. A few years ago, glass paste was popular, but this product is in decline. Today we speak rather of patterned ceramic tiles or installed with a herringbone pattern. If you visit your Deco Surfaces retailer, you will see how impressive the ceramic choice for the kitchen backsplashes is!
Which tile format is the trendiest?
Manufacturers are increasingly making large formats. For example, 24 x 24 inch ceramics have been trendy for a few years now. And in recent months, an even larger format has appeared 120 x 40 inches. In Europe, these sizes are a hit. It's only a matter of time before people here adopt them. Moreover, I see more and more customers turning to these large ceramic sizes, which, once installed, can even give the illusion of a larger room.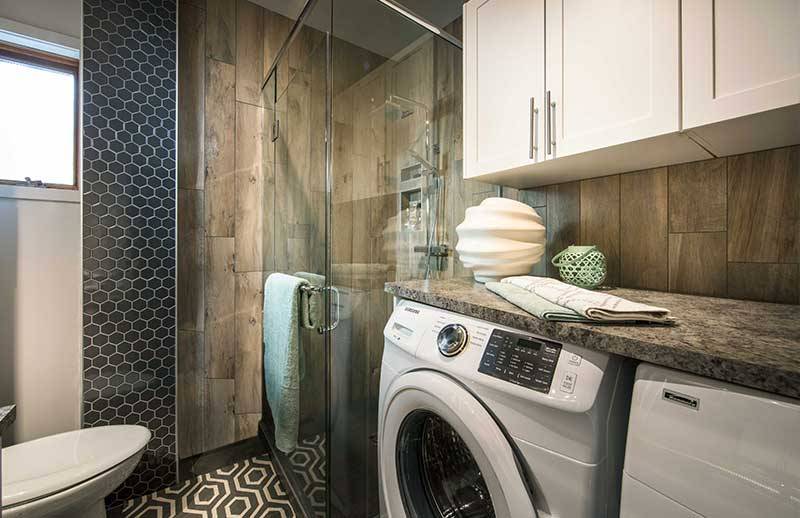 We love wood effect ceramics, as they can be used according to our fantasies... even in the shower! Plus: they give a timeless look.
What about wood effect ceramic tiles?
It's really trendy. I must say, it's very practical. For example, if a customer dreams of a hardwood floor, but hesitates to invest, because he knows it will be damaged by his dogs, wood effect ceramic tiles are a beautiful solution. Its appearance is misleading... you can hardly tell the difference! And it should be noted that it is suitable for all types of settings, from rustic to modern. For example, a grey wood effect ceramic tiles with streaks gives a very contemporary look.
What kind of interior is concrete ceramic tiles suitable for?
Contemporary and modern. I can hardly see it in a rustic room. However, it is all a question of harmonizing materials. Also, if the concrete effect may seem cold at first, it is easy to add warmth to the decor with furniture and accessories that balance everything.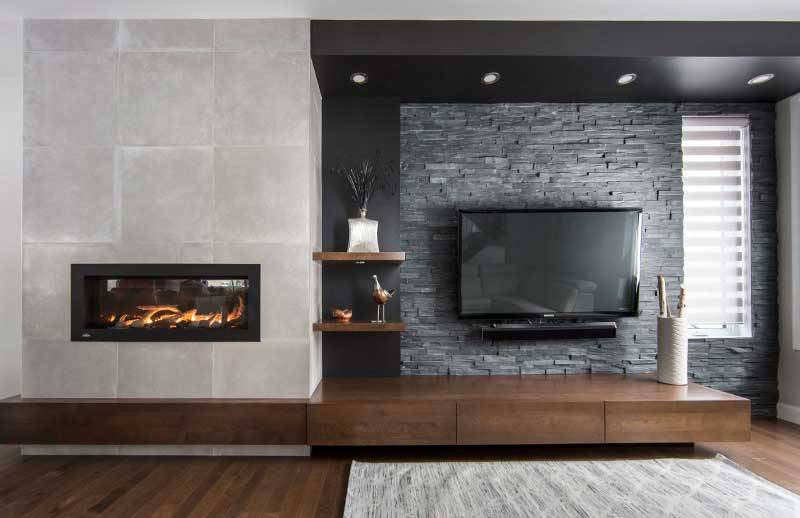 Concrete like ceramic tiles is very popular. They can be installed on the floor, on walls and even on fireplace mantels for a contemporary and refined effect. Ask a Deco Surfaces specialist for more information!
Is there any ceramic strong enough to be installed outdoors?
Absolutely. A full paste porcelain with a stronger composition can be installed on the floor because it will resist freezing. However, it is necessary to use specific glue and grout for this exterior product.
On the price side, would you say ceramic tiles are affordable?
There is a wide range of prices. Small or large budgets, there is something for everyone.