Bathroom trends: Are you up to date?
Bath, shower, storage, technology, colour... bathroom design is constantly evolving. Renovating? Let Julie Allyson and her team at Déco Surfaces Trois-Rivières keep you informed of the latest trends.

Simply install a linear drain and this shower, with the same ceramic floor as the rest of the room, will be perfectly functional and integrated
What makes today's bathrooms different from 5 years ago?
New bathrooms are still being designed in straight lines and light colours, mainly white, are still in the spotlight. On the other hand, the settings are less refined or monochromatic than in recent years. We are more interested in creating contrasts and adding colour accents, and we dare to use mixed materials.

 Do not be afraid to mix different ceramics. This will energise the space!
Can we indulge in some fantasies in this room?
Absolutely! Since you spend fewer hours in a bathroom than in a kitchen, it's the perfect place to have fun with design. It is less likely to annoy us over time! Splashes of color are the latest trend. If some people dare to use coloured furniture or ceramics, it is possible to remain cautious and play the colours in accessories that are easily replaceable. For example, a shower mat, a canvas, a vase, decorative towels...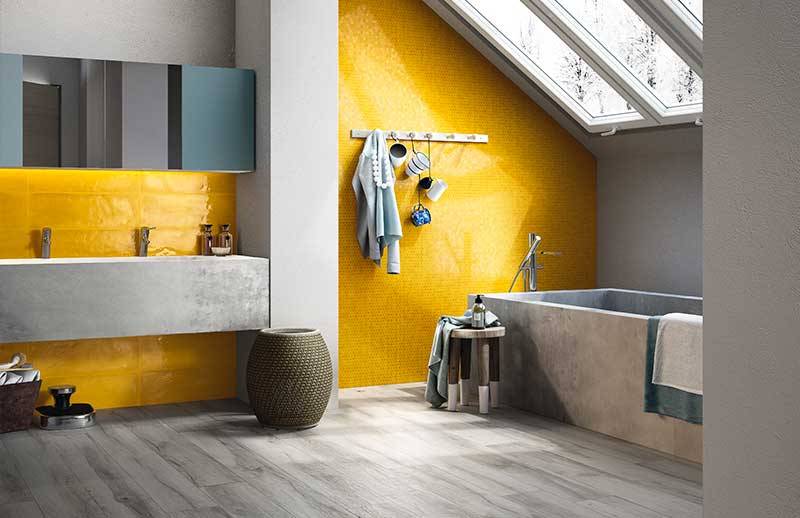 The trend is towards colour accents! Here, we dare to use ochre yellow for a look that makes a statement
What are the most popular materials?
There's a trend for timeless products that remind us of nature. For example, marble, concrete or wood. It can be fun to mix these different materials to create contrasts. The contrast is also seen in the textures. For example, by choosing a ceramic of the same colour on the floor and shower wall, but in a different finish, either glossy or matt.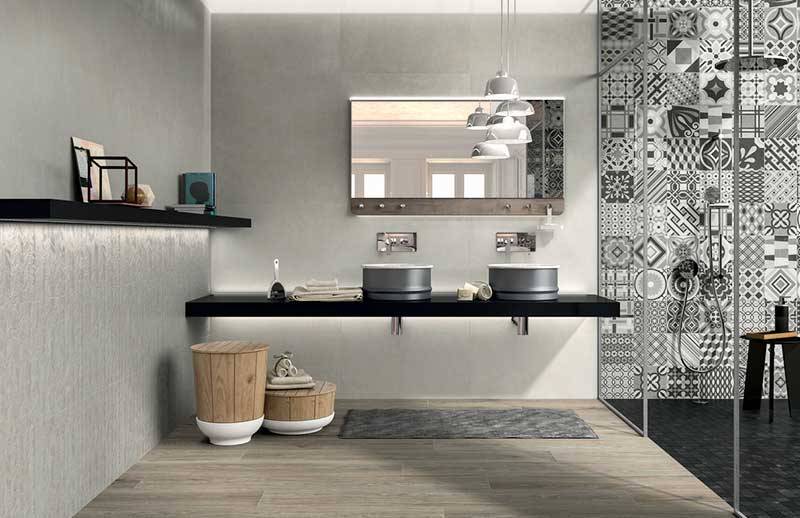 The patterned ceramic wall steals the spotlight from this monochrome decor
Shouldn't wood be avoided in a bathroom?
Indeed, it is preferable to go with an imitation, for example ceramic or plated (on a piece of furniture) to avoid problems due to humidity. Wood instantly creates a feeling of comfort. It reminds us of luxury cottages or spas. It's a must!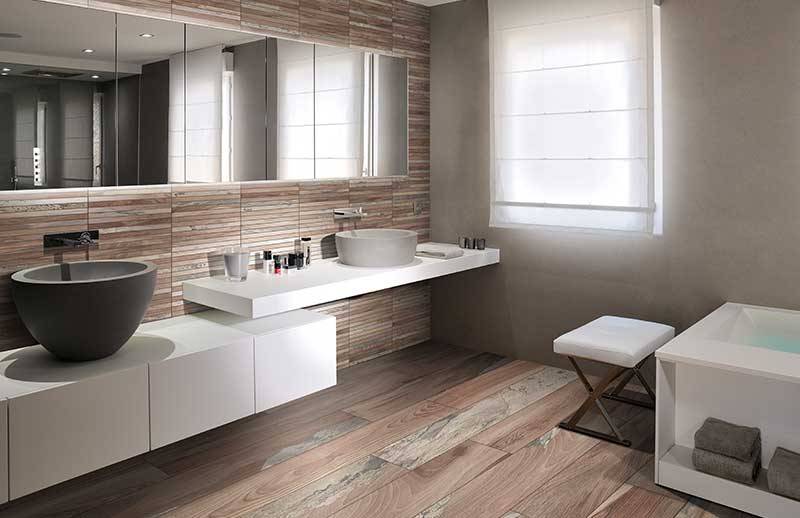 A cozy wooden effect ceramic that will resist water splashes... and inspire relaxation!
What are the trends for showers?
We note three trends. The first is the Italian shower. That is, the base of the shower is the same as the rest of the bathroom floor. Secondly, the glass shower with a single ceramic wall and the rest in glass. In both cases, the aim is to create openness, to aerate the space. We almost forget there's a shower! We try to ensure that it is perfectly integrated into the rest of the bathroom, and not isolated. The third trend is ceramic heating... even inside the shower! It's top-of-the-range foot comfort, no matter where you are. In addition, it helps to evaporate water from the ground.

Glass showers are designed to be embedded in the space, almost transparent. Isn't it elegant? 
Is there a return of the podium baths?
We do notice a return of the podium baths, but they will harmonize perfectly with the shower. To do this, we can remove partitions or use the same ceramic... The result? A more elegant and subtle architecture. It should be noted that the self-supporting bath is fashionable now. It is often used as a point of interest in a bathroom.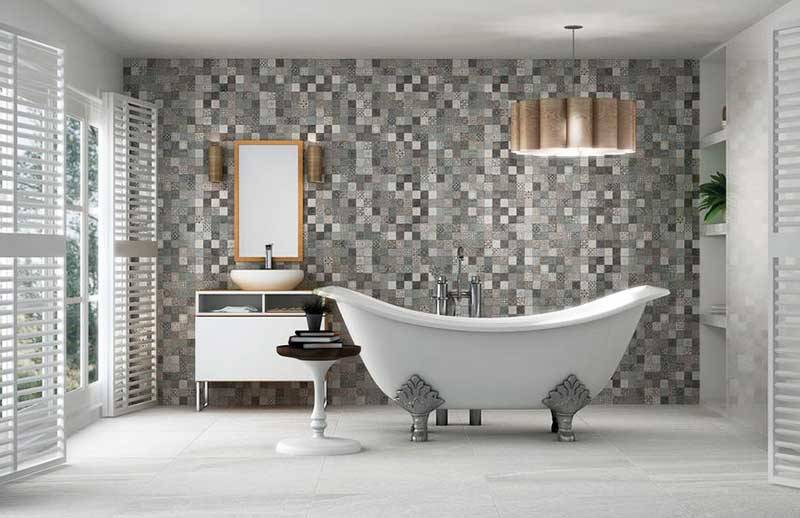 Self-supporting baths are often the centrepiece of the bathroom. 
What are the trends in storage?
From now on, it's the pinnacle of the organization! Instead of having several handles on a piece of furniture that open on unique drawers, we opt for a single large storage unit. A cupboard or vanity may seem trivial, but when you open it, it reveals a multitude of filing cabinets and drawers. Everything is hidden and structured in this large space! It's called personalized storage. In addition, there is a tendency for floating vanities to give a sense of grandeur.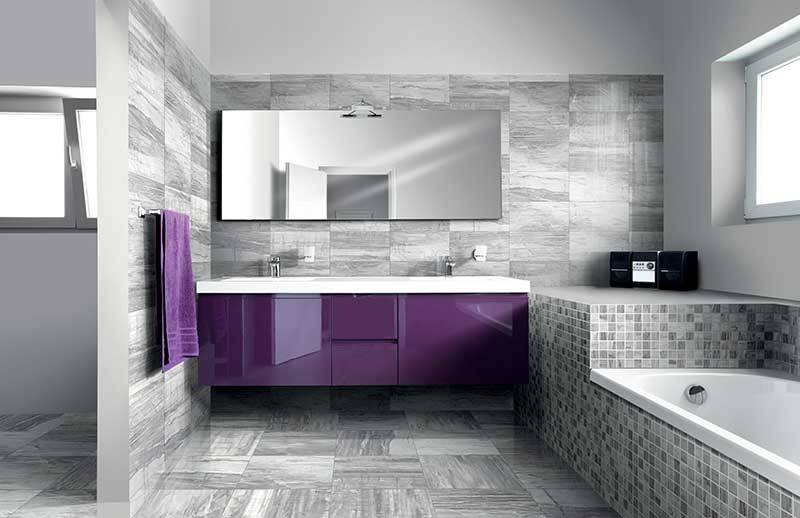 Self-supporting vanities give the impression that the rooms are larger and more airy
Are colour baths trendy?
There are self-supporting baths in different colours, but white is predominant. Black bath, placed in a very white setting, is magnificent and attracts many enthusiasts. Baths in other colours are suitable for bold designs, but it is a personal choice for everyone!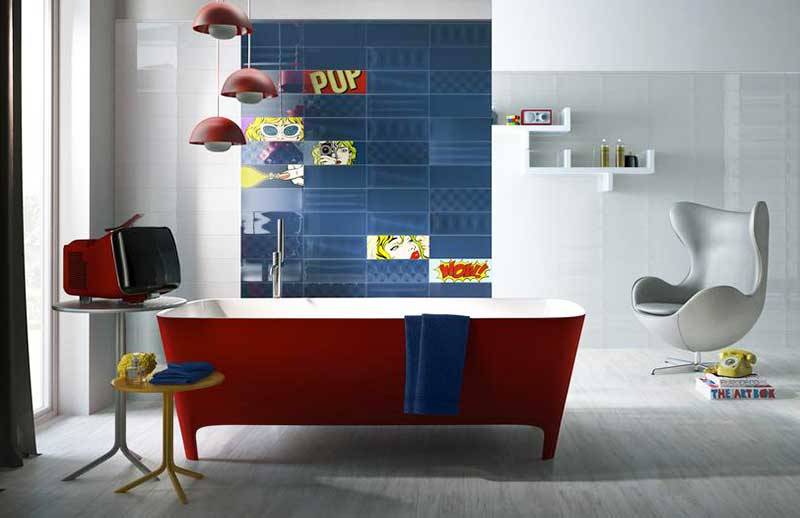 Bathrooms are perfect for daring. Don't you find this bathroom spectacular?
What's new in technology?
There are now very discreet towel warmers on the market that add a practical touch. Home automation has also made its appearance in recent years, throughout the house. For example, you can remotely manage the floor heating, lighting, temperature or stereo system with a smartphone app. Also, a trend towards light therapy and chromotherapy (or chromatherapy) aims to improve the mood and general condition of the occupants.