Déco Surfaces announces a new donation to the Alzheimer Society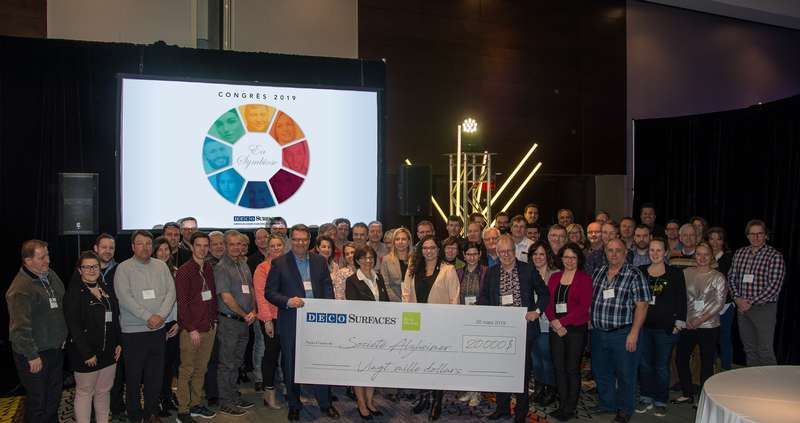 Proud to support a cause that is close to our hearts and to team up with a federation that offers concrete solutions to support people with Alzheimer's disease, the Déco Surfaces network is pleased to donate $20,000.00 to the Alzheimer Societies for the second year in a row.
On behalf of the Deco Surfaces group, we are pleased to demonstrate our support and contribute positively to the development and research of Alzheimer's disease. We sincerely hope that our contribution will make a difference in the lives of people living with this disease, which is increasingly present in our lives.
Our efforts to support the cause will be deployed throughout the year at your local Deco Surfaces store. Locate your merchant to ask about local support by clicking here.
ABOUT ALZHEIMER SOCIETY
For more than 30 years, the Alzheimer Societies have represented, supported and defended the rights of 141,000 Quebecers and more than 564,000 Canadians living with Alzheimer's disease and other neurodegenerative diseases as well as their caregivers. Alzheimer Societies offer their patients and their caregivers, through programs, services and training, both the support and supervision needed to enable them to maintain the best possible quality of life. Additionally, Alzheimer Societies educate the public about the personal and social consequences experienced by people with Alzheimer's disease and help support research into causes, treatments and cures.
 For information: http://www.alzheimerquebec.ca
Follow them on social media:
Facebook: @LaFederationQuebecoiseDesSocietesAlzheimer
Twitter: @FqsaAlzh
Instagram : @fqsaalzh