The playroom: tips to make it pretty, practical and resistant
When it comes to interior design, the playroom is a sometimes neglected room in the house. It must be said that chaos often sets in!
Luckily, there are many ways to provide a dream space for our little ones without compromising on style. Do you want this room to look great? That it doesn't fall apart after the children have moved in? Here are a few tips!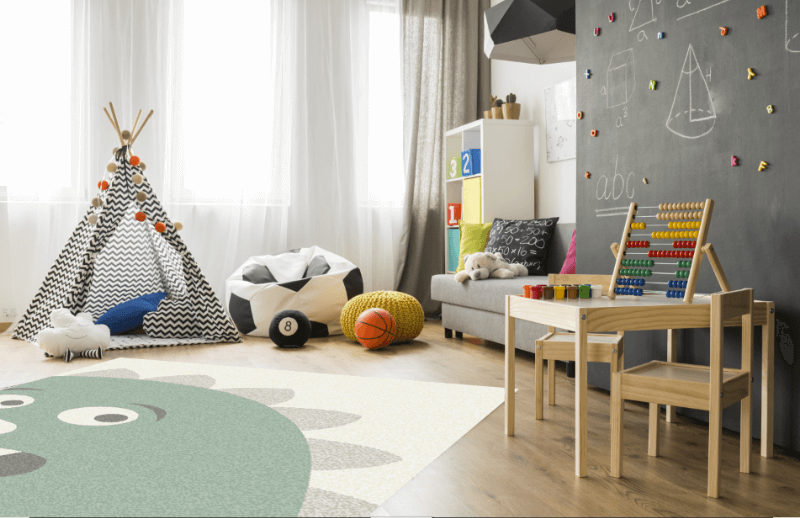 An area adapted for kids
The Power of Rugs
An area rug is a decorative accessory that has many uses. Especially in a playroom! It can be installed in the reading corner to offer softness or in the middle of the room to delimit an area. The colours and textures are so diversified that it's easy to find a unique rug that will add something special. And for toddlers, it's a great surface for fall prevention! Note that shag area rugs are more difficult to maintain: the vacuum cleaner has trouble removing all the dirt.
Choose a floor that can resist anything
About ten years ago, vinyl flooring had a bad reputation: it was compared to its ancestor with a less modern look, the linoleum. But those days are gone. Now, vinyl planks looks great in our homes. It comes in a variety of looks, each one more beautiful than the next. It is also an expert in the art of imitating finishes, such as wood or concrete. In the playroom, it will resist scratches caused by furniture being moved abruptly, shocks from bulky toys and water damage. It has it all!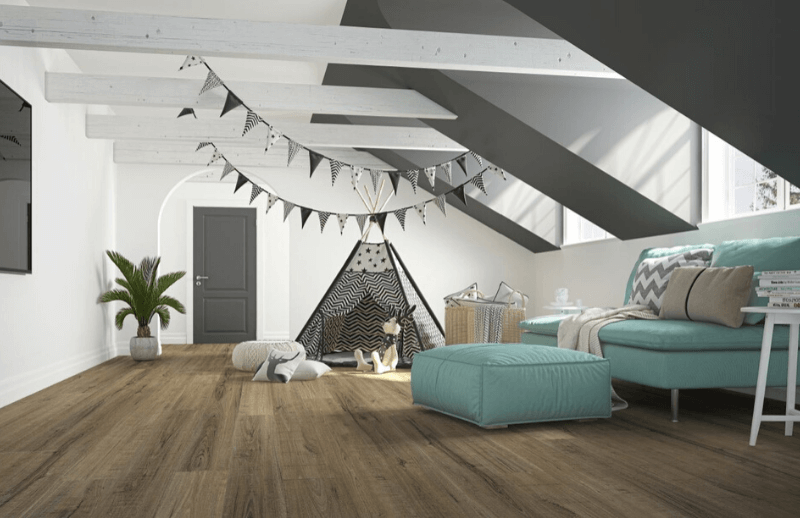 Use aspects that are both playful and useful
The importance of colours
In order to stimulate the creativity of our kids and to energize the room, nothing is better than colours. There are many ways to bring them into the playroom. This can be through a small red drawing table, comfortable yellow cushions, a wall to display artwork, patterned blinds or colourful sheers on the windows. Wallpaper can also make a nice impact. In fact, we offer several window coverings and wallpaper that are perfect for a child's room. Visit a Deco Surfaces store to discover all the colours and patterns available.
Storage that hides clutter
In this room, it's best to provide plenty of storage space. At the end of the day, the puzzle pieces end up in the same box as the animal figurines, the costumes are scattered throughout the room and there are inevitably some missing pieces in the board games. Don't have the heart to pick up all the pieces? Defer this task and hide the mess by squeezing everything into chests, baskets, shelves and wall storage. That way, the space will look organized.
Add one or many hiding places
To make the children happy, allow them to isolate themselves when they feel the need to do so, thanks to a hiding space. Teepees made of fabric are popular, but it is also possible to create hiding places using embellished carton boxes or by using partitions that can also be used to separate areas. In addition, these spaces bring a lot of style to the design.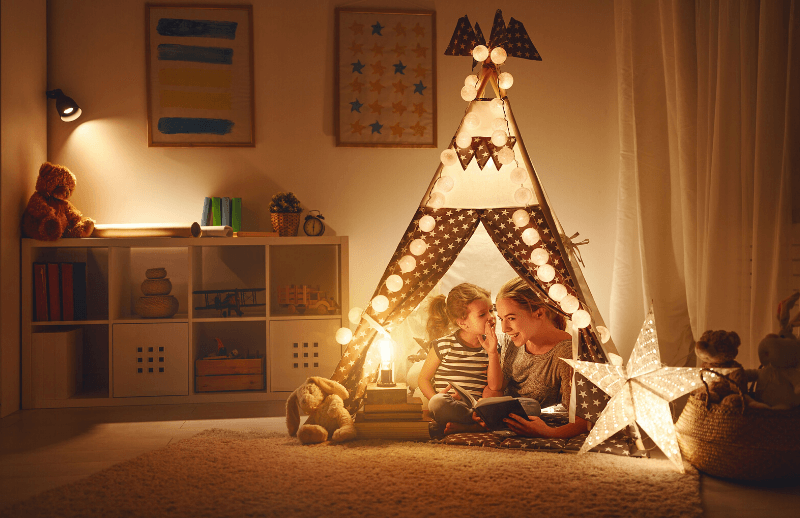 Designed to make your life easier

The art of having flawless walls
It is not uncommon for the walls of rooms frequented by children to be covered with fingerprints or marked by objects thrown too hard. The solution is to use a glossy paint that will wash off more easily than a matte finish. Another tip is to protect one or more walls with a covering, such as floating wood slats or ceramic tiles. The latter is particularly interesting in a playroom since they come in all colours and textures. It is also possible to arrange the porcelain in a unique way to create wall patterns. And of course, the whole thing is a charm to clean.
Turning to washable materials
To keep this place of fun looking great, the presence of dirt-free materials is essential. Cream fabric storage bins, white plastic tables, pale and porous curtains, cushions without washable covers... these are all things to be avoided. When it comes to curtains, many Deco Surfaces stores have a wide inventory: you're sure to find the perfect model for you, and above all, it's damage resistant!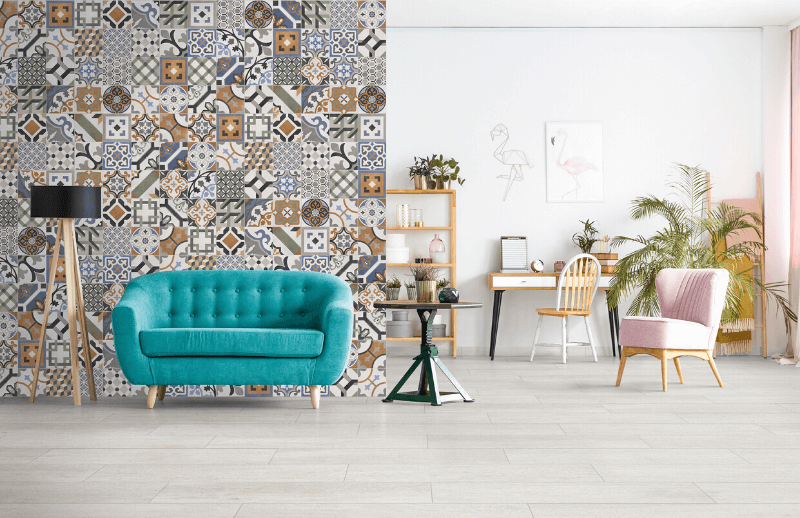 Need more advice to help you decorate your room? Discuss your project with one of our experts: together, you will create a playroom that will please young and old alike.