Our inspiring and comforting Christmas decoration ideas
We all need the magic of the holidays. And when our home inspires this exciting time, we can't help but feel good about it! Don't have enough inspiration to decorate one or more rooms in your home? Discover our favorites in this article!
The benefits of wood
Interior softness
The hardwood floor of this dining room stands out beautifully in this decor. The knots of the wood bring a lot of conviviality. This type of flooring suits a rustic, chic or classic decor. This way, when Christmas-inspired elements are added, it maintains its charm.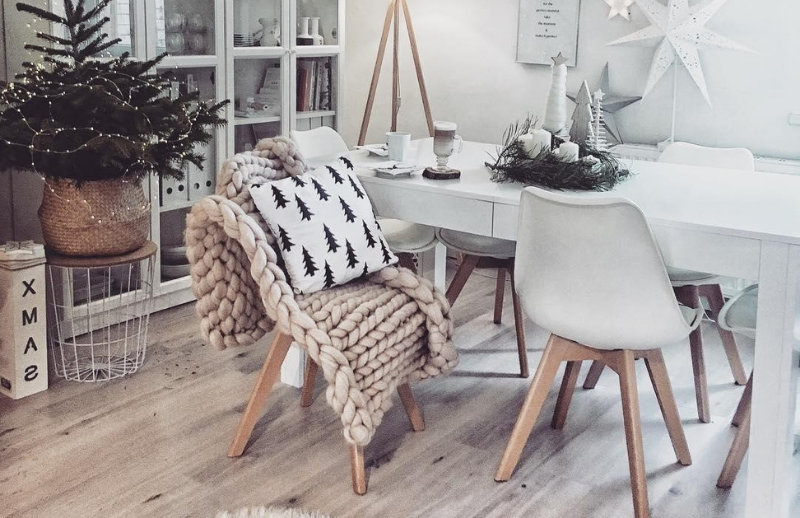 Instagram @home_m_
Wooden lath on the wall
The style is very popular this year. It is inspired by old farm houses. The wooden slats that are fixed to the walls create this sought after rustic atmosphere. It is then easy to embellish the room for holiday season with, for example, themed duvets. 
A rustic and chic accent wall
This decor is totally magical ! Lights fall from the sky like luminous snowflakes whiles tree branches add a natural touch. And it is impossible to ignore the section at the top of the fireplace: the asymmetrically installed wooden slats generate an elegant and rustic atmosphere.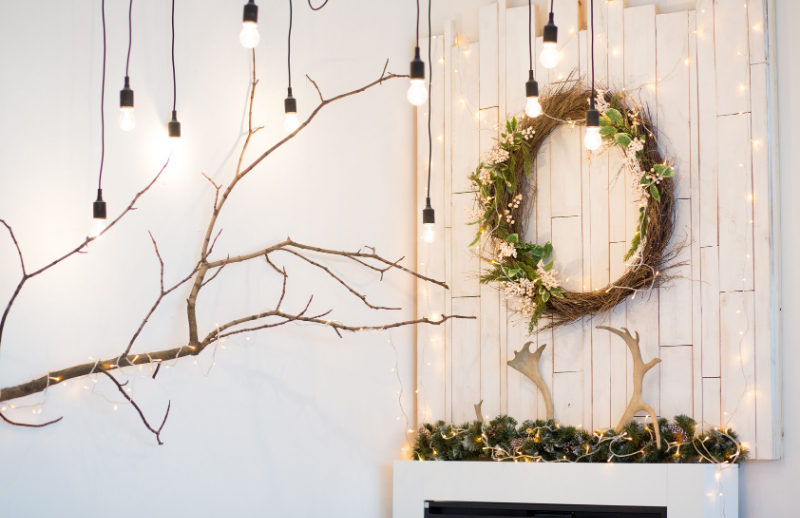 The art of ceramics
The elegance of black
The black ceramic placed in a herringbone pattern stands out in this warm decor. To add a festive touch, the tone-on-tone Christmas stockings and the Christmas tree make all the difference. The candles offer a classic style.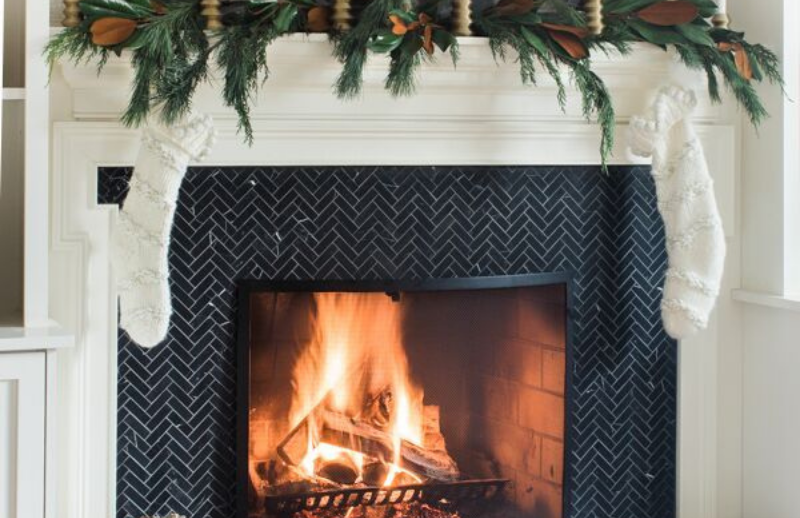 Pinterest @domino
A refined kitchen
In this timeless kitchen with pale colors, it was easy to add some holiday magic. A few garlands of fir trees and golden accessories were all that was needed. These elements stand out wonderfully as they contrast with the glossy ceramic backsplash and the marble countertop.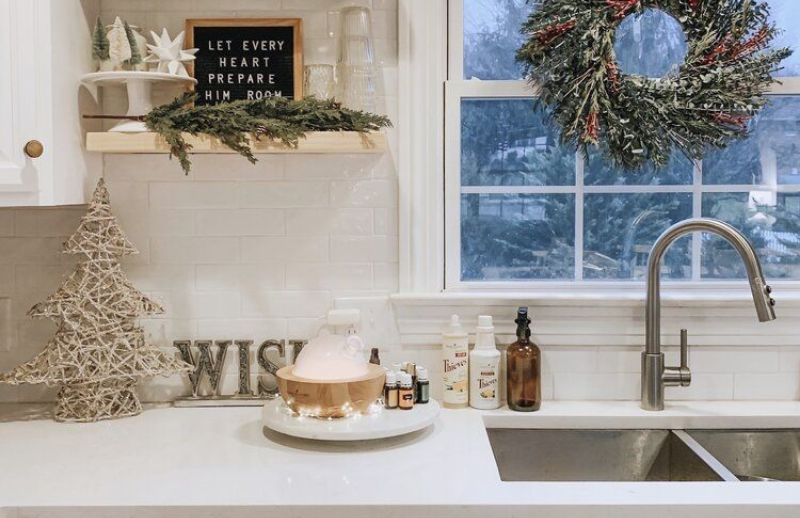 Pinterest @laurenmmills  
A hint of Christmas in the bathroom
The bathroom can also be an inspiration for parties. And you don't have to put a lot into it to create the right atmosphere. Here, only the frosted fir tree decorates the room. It looks great on the herringbone ceramic floor.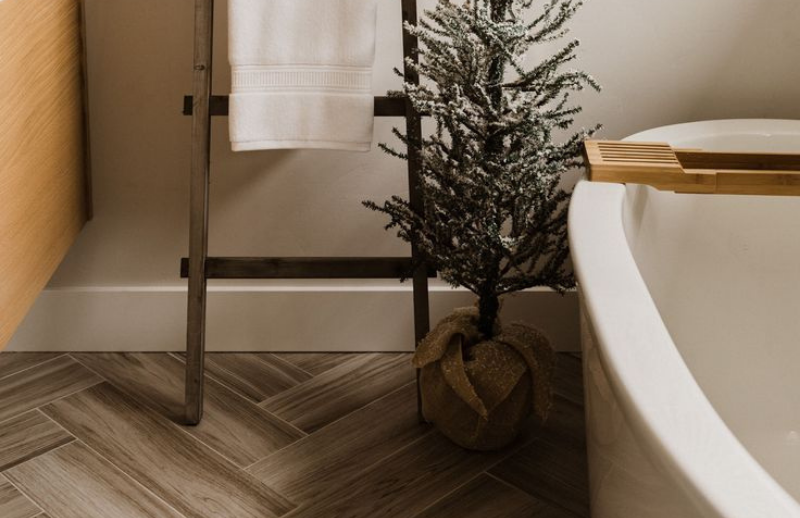 Pinterest @rollee
Increasing the light tenfold
Textured ceramic can create a spectacular effect on a fireplace mantle. It is a perfect white canvas to accommodate any type of decor. Here, the addition of candles and lanterns is a nice touch to Christmas. Splendid!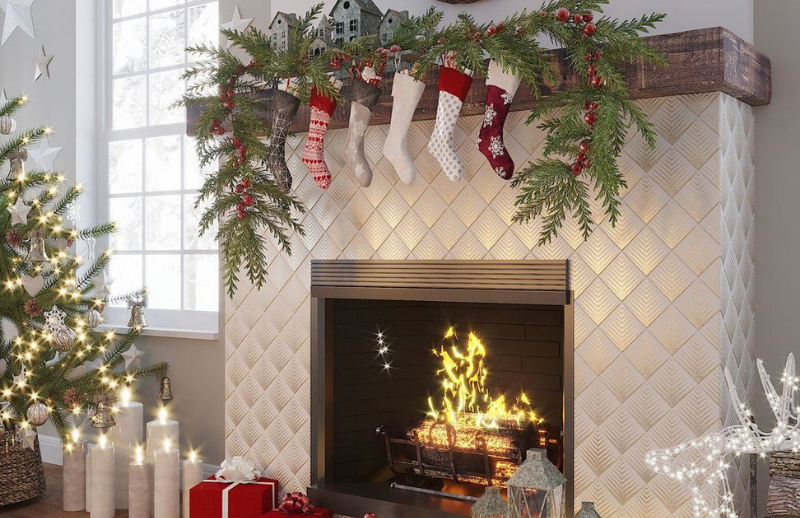 Pinterest @tileclub
Our comfort decorations
Let's dare the full rug
Houses with carpets covering the entire floor of a room are rare. However, we all love the softness and warmth of this material, especially in the bedroom. In a Christmas decor, the carpet adds a little something comforting.
Hurray for textures!
 To create a Christmas decor in a resting area, you can put soft cream-colored rugs and add a tree and wreaths to complete the set. Although several textures blend together, the look is not too crowded.


Painting that sets the tone
Here's a decor that proves that you don't need of red to create a Christmas-inspired room. The painting on the back wall, which is a nice mix of salmon and peach colors, is a strong decorating trend. By adding wood and cream-colored accessories, the result is a soft and warm atmosphere.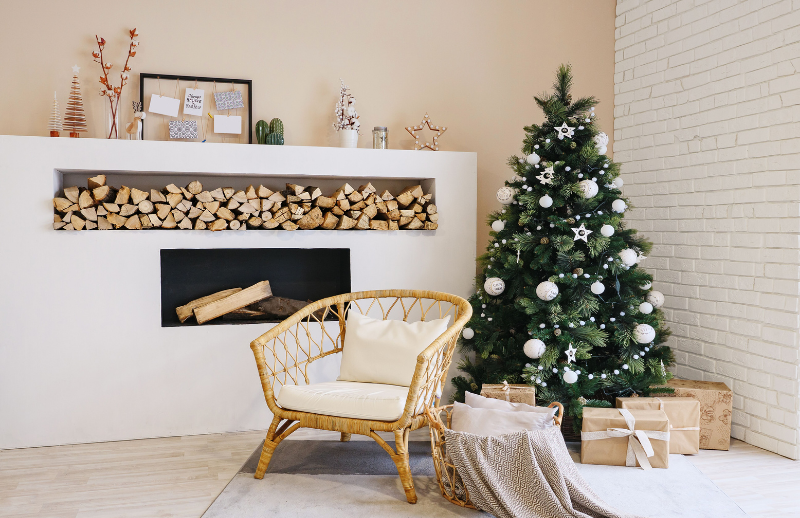 Instagram @decosurfaces
Impossible not to want to spend some time at home in this kind of decor, isn't it? It is possible to recreate these atmospheres: visit a Déco Surfaces store to find inspiring flooring materials and accessories.