Ah, the terrazzo! This lively and delicate pattern effortlessly transforms the different rooms of the house. From the floor to the ceiling and the furniture, it can be everywhere. In fact, you don't have to renovate your entire house to integrate it with style.
In the 70s, terrazzo was a floor covering made of a layer of cement in which fragments of marble and colored stones were incorporated. To avoid this long process, it is more current to find ceramics that perfectly imitate this pattern. Here are 10 ways to integrate terrazzo ceramic tiles into your decor... that will surely charm you!


1. In strips, to create an effect of grandeur
Installed on a wall, a ceramic strip that does not cover the entire surface always generates an effect of height, if placed vertically or width, if placed horizontally. A tile displaying the terrazzo pattern will give even more fullness because of the small size of its patterns.


2. Covering a countertop with a faded look
Has the kitchen counter or island lost its luster? Whether it is damaged or has an out-of-date look, this surface can be removed and replaced with terrazzo ceramic tiles. By adding decorative objects, you can even create a retro ambiance reminiscent of the 70s.


3. The perfect accent wall
If there's a lack of punch in any room of your home, installing terrazzo tiles on the wall is a great idea. Thanks to the subtlety of its design, this tile will liven up the whole, and will be pleasant to the eye.


4. To liven up a room with sober elements
Covering the floor with this type of porcelain is a guarantee of beauty, especially when all the rest of the elements in place are neutral in color. You think your countertop, furniture, chair or table is too simple? Enhance the decor with a terrazzo!


5. In kitchen backsplash... who forgives!
Did you know that wood, vinyl or ceramic with textured and spotty patterns are more easily forgiving of imperfections? Scratches, dust and dirt are less noticeable on surfaces with different colors and tones. This means that a food-spattered terrazzo backsplash (a classic when cooking!) could still look flawless. Isn't that great?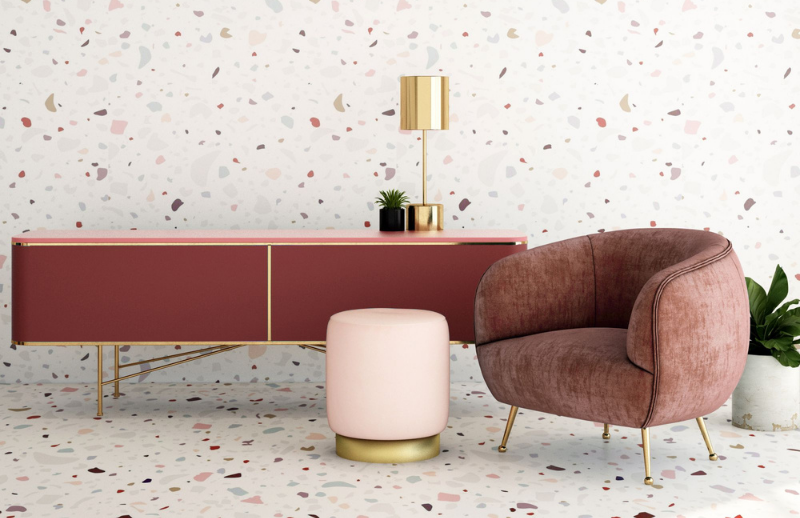 6. To add depth
Used over a large area, for example on the floor or a wall of a room, terrazzo porcelain can create optical illusions. We can have the impression that the repetitive patterns stand out slightly, adding depth and texture. This is an interesting feature, especially in a small room or playroom.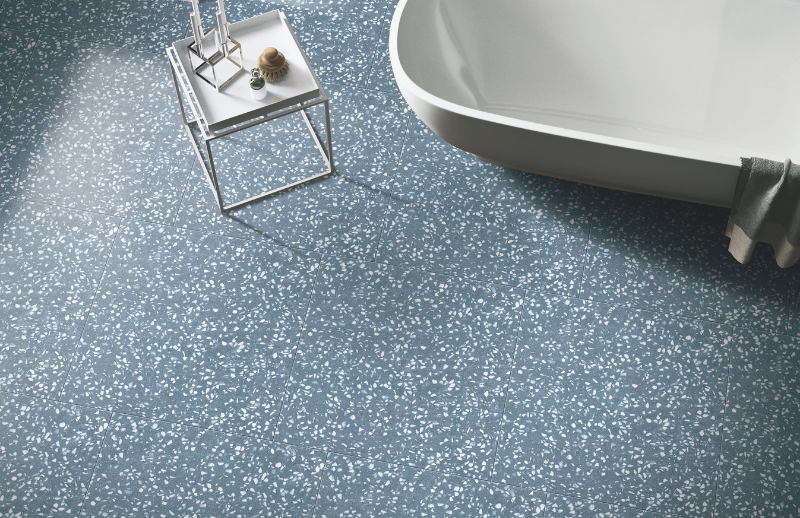 7. To enhance your bath
If free-standing baths are in vogue, there are ways to revamp corner baths, for example by covering them with a trendy ceramic. Choose large tiles and even add a practical edge that will serve as a shelf for a glass of wine and a book. Terrazzo is beautiful everywhere!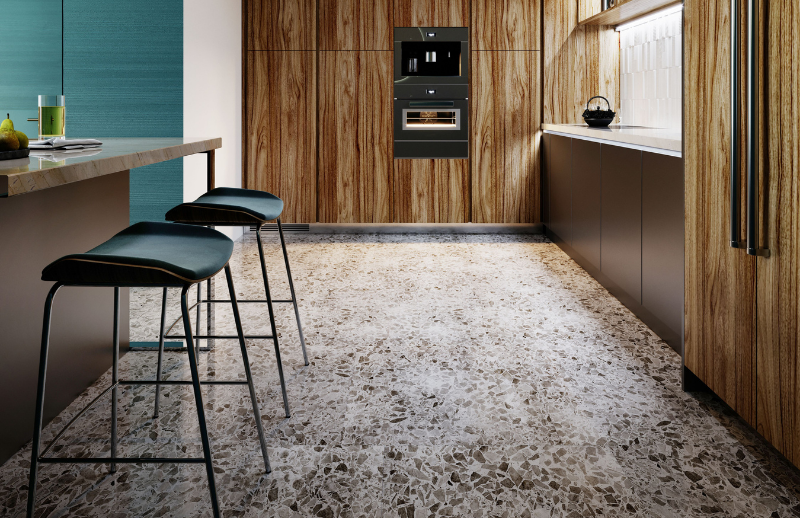 8. It fits to everything!
Many people fall in love with terrazzo ceramics because it blends easily into a decor. For example, in the kitchen, it can be difficult to find a colored backsplash that will look just as good alongside the cabinets as the floor covering. Thanks to its mix of shades, it is easy to find a terrazzo pattern that will blend in well.


9. For a tone-on-tone effect... not boring!
Sometimes, we want certain rooms in our house to be more neutral. For example, the reading area. By mixing two or even three terrazzo tile models of similar shades, we can create texture and life in a very sober room.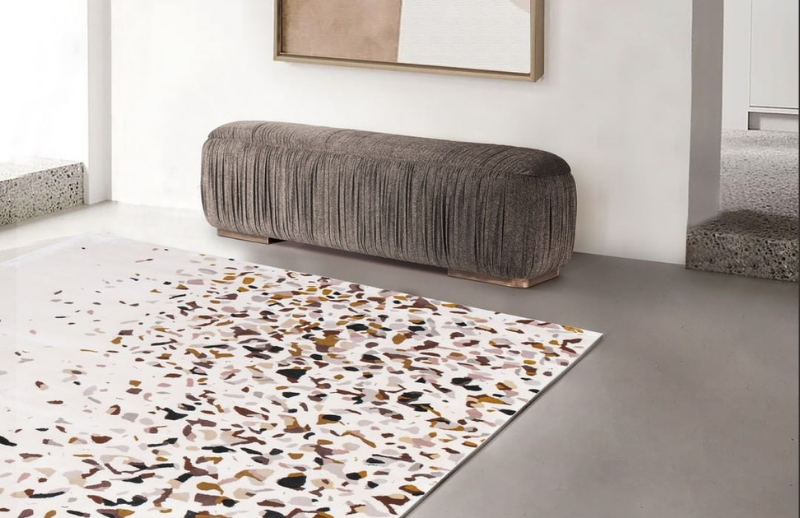 Instagram @rug_society 
10. As accessories
If terrazzo ceramics is very popular in 2021, you can also integrate this pattern for accessories. Canvas, sculpture, cushion, shower curtain or rug ... it looks good in every room of the house. Some creative people even use terrazzo ceramics to cover an old flowerpot or old shelves.


The pattern can be added to your decorations in a sparing or generous way! Make a virtual appointment with one of our Deco Surfaces experts with photos of the room to be renovated: they will be able to suggest the perfect terrazzo product.