Never before have we enjoyed our backyard as much as we did during the pandemic! To have a more enjoyable summer than ever, here are the 2021 trends to adopt to optimize your outdoor days.
Ceramic tiles... extra large!
For your outdoor flooring, the size of the tile can sometimes make all the difference. In fact, to create a breathtaking effect of grandeur, consider installing large format porcelain. In addition to being beautiful, they are easy to maintain: their large size reduces the number of joints, which greatly simplifies cleaning.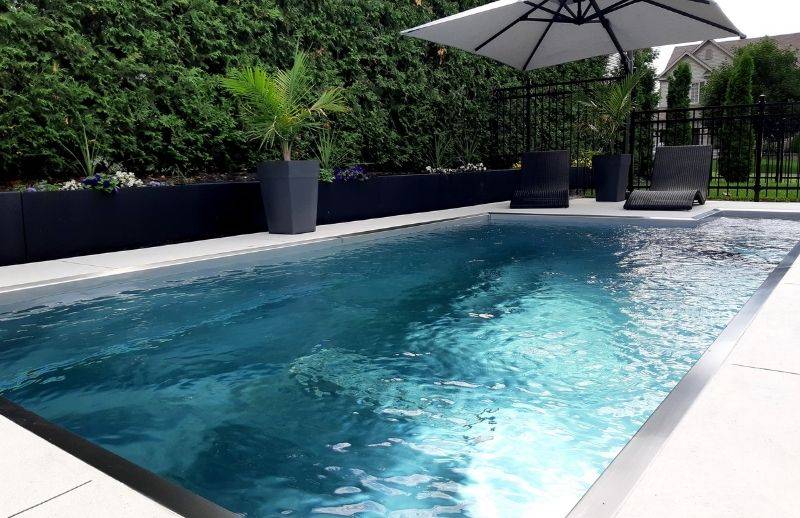 Image: INOX Piscines
Pool and spa: think stainless steel
With their unique and contemporary look, stainless steel pools and spas are becoming increasingly popular with individuals and businesses. Why choose them? First of all, for their impeccable hygiene. Indeed, since bacteria do not adhere to the walls, it is easier to keep the water healthy and clean. In addition, the pools never tend to fade or turn yellow, unlike pools installed in traditional materials. Finally, the stainless steel pool or spa is an ecological choice. Stainless steel is 100% recyclable and their pools are low in chemicals. Oh, and if you were wondering, they are perfectly adapted to Quebec winters!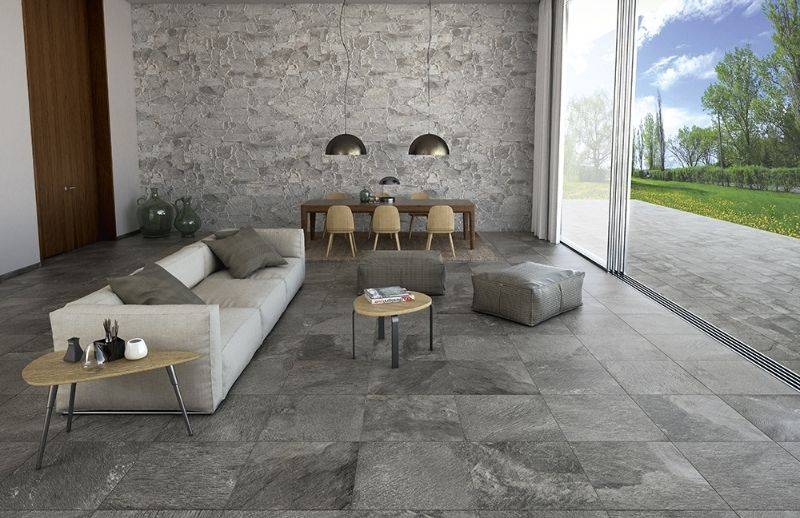 A balcony or terrace with the same finish as the house
This suggestion is for those who spend their entire summer with the patio door open. To create a size effect and to give the impression that your terrace is simply a continuation of your interior, continue the floor of the house outside. An example? If your kitchen floor overlooks the balcony and is made of ceramic, you can cover the deck with the same material and color. Imitations are also interesting combinations: a chocolate brown composite wood for the exterior and a chocolate brown hardwood for the interior will give the same pleasant look.
Green and greedy roofs
Green roofs aren't just for big buildings. It's possible to incorporate one or two into your yard, even small communities in the suburbs. Think, for example, of the roof of your shed, your gazebo, your patio or even your carport. In addition to being highly attractive, green roofs allow you to grow vegetables without compromising the play space in your yard, and reduce heat islands during heat waves. They also add color to the landscape, which is not negligible.
Exterior wrap-around rugs
Whether inside or outside the home, area rugs are fashionable. They delineate areas and add softness and color. In the backyard, a corner with a rug becomes more lively and inviting in no time. Around the pool, under the dining table, near the reading area...any place is a good place to add a rug!
A kitchen in the middle of the garden
Gone are the evenings when you cook in a corner of your yard with an old barbecue! From now on, the fashion is for complete outdoor kitchens. Equipped with a sink, an oven, counters, storage and sometimes even a refrigerator, these outdoor kitchens require you to bring electricity outside your home. But the trouble is worth it: imagine picking carrots from your garden and cooking them directly in your nearby oven.
The pergola: the missing element of your yard
A pergola is a small roof or structure over your deck with horizontal beams on which you can grow climbing plants, if you feel like it. It will allow you to relax in your garden even when the sun is shining or it is raining and, unlike a normal roof, the pergola gives an impression of size and airiness. The fashion is for a sloping roof that accentuates the illusion of height.
This summer, go light
In an effort to reduce heat islands (but also for a sleek, modern look), light colors are becoming increasingly popular among backyard owners. Whether it's your patio tiles ceramic or porcelain your garden containers or your umbrella, go for pale gray, beige and cream.
Landscaping may be a matter of taste, but you can never say no to a few tips and tricks for a more welcoming, fresh, practical and ergonomic yard. For tips on outdoor flooring that will steal the show, turn to the experts at Deco Surfaces stores.