Tapis O. Bélec Inc., Lachenaie, Terrebonne
Home
Contact Information
1336, Montée Masson
Lachenaie, Terrebonne, Québec
J6W 6A6
www.tapisobelec.ca
Telephone: 450-964-7882
Fax: 450-964-2731
RBQ Licence: 1840-5688-58
Make it my store
Modes de paiement
Opening hours
| | |
| --- | --- |
| Monday | 8:30 to 6:00 |
| Tuesday | 8:30 to 6:00 |
| Wednesday | 8:30 to 6:00 |
| Thursday | 8:30 to 9:00 |
| Friday | 8:30 to 9:00 |
| Saturday | 9:00 to 4:00 |
| Sunday | Close |
About us
Founded in 1981 by Estelle and Orian Bélec, the business is now managed by their children, Josée and Patrick. In 2001, the flourishing company moved into a new 5,250 sq. ft. building to better serve its customers with a larger selection of floor covering products.
At Tapis O. Bélec, a dedicated family-operated business, you are sure to get advice from experienced consultants!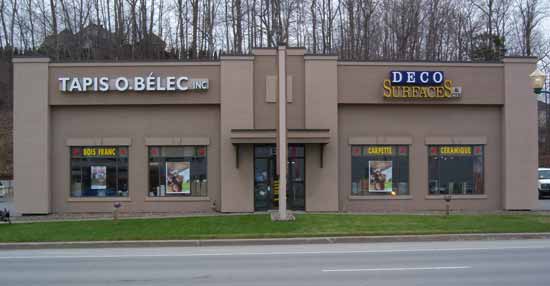 Our services
Our expertise is available to you.
Here are the products and services that we are proud to offer you.
Floor coverings
Residential and commercial project estimate
Home delivery
Guaranteed professional installation
Decorating tips
Designer service (in store or at home)
Contact us by email
All fields identified by an asterisk (*) are mandatory.