Our consultants, designers and decorators are experts in the products on the market, a guide to aesthetic excellence. Discover the perfect harmony of inspiration and functionality.
Looking for inspiration to enhance your home or business? Our interior designers and other experts in the art are the guardians of trends, in search of harmony and balance. Like passionate aesthetes, our Déco Surfaces professionals devote themselves heart and soul to your project. Their creativity blossoms, like a work of art, to shape the ambiance of your dreams. Come and meet them. A world of possibilities awaits you, ready to come to life under their masterful talents.
Your home adapted for your own needs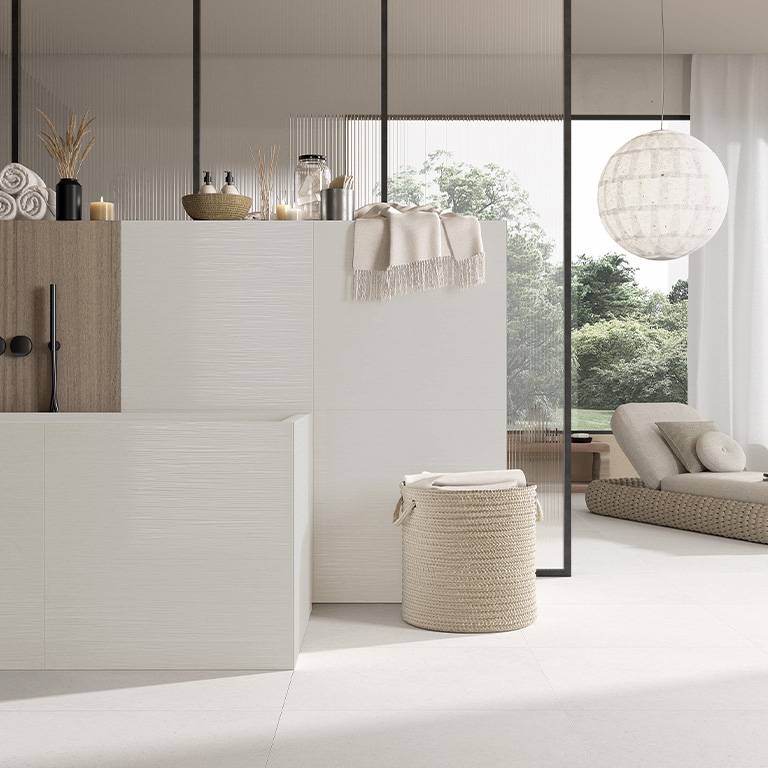 At Déco Surfaces, we're much more than just floor covering merchants. We are the guardians of a vision, the artisans of interior harmony. Like passionate goldsmiths, we listen empathetically to the whispers of your desires, capturing every nuance of your needs and challenges. Our tailor-made solutions brighten up your living space, forging an unforgettable bond between you and your home. With each meticulous choice, we elevate the furnishing experience to a symphony of perfection. Welcome to the unique world of Déco Surfaces, where excellence is our North Star.
Kitchen and dining room
In this vibrant space where flavours and memories come together, design plays a masterful symphony. Opt for resilient floor coverings that will stand up to culinary blows and assiduous footsteps. From wood to ceramic tiles, explore colours that suggest warmth and conviviality. Let creativity express itself in harmony with functionality, so that the art of entertaining becomes a graceful ballet.
Bathroom
Rejuvenate in the serene intimacy of your relaxation sanctuary. For a peaceful ambiance, choose floor coverings that evoke freshness and elegance. Luxury vinyl or porcelain tiles offer moisture resistance and ease of maintenance. Choose soft patterns or natural shades that blend into a harmonious whole, making every moment in the bathroom a moment out of time.
Living room and bedroom
Let yourself be enchanted by the timeless elegance of these spaces of tranquillity and reverie. Hardwood adds a touch of refined warmth, while rugs and carpets weave a comforting softness beneath your feet. Choose floors that embrace your emotions and match your aspirations. Let your creativity melt into a soothing whole, where comfort and inspiration merge into a composition of well-being.
Corporate and commercial
In the demanding world of corporate and commercial spaces, design becomes a megaphone for your identity. Choose floor coverings with patterns and materials that reflect your professionalism and vision. Vinyl flooring or modular carpets offer practical versatility for dynamic spaces. Combine aesthetics and durability, functionality, and emotion, so that every step you take here proclaims your excellence.
Our realizations
Discover the captivating creations of the Déco Surfaces stores, where each project is an enchanting tale. From noble woods to elegant tiles, we weave unique stories for every space. Enjoy the perfect marriage of aesthetics and practicality in these dazzling creations. Every floor becomes a canvas of expression where your dreams come to life. Immerse with us in our worlds and let yourself be carried away by the magic of transformation, for a home that reflects your essence and inspires your soul.
Tell us about your project
Entrust your floor to the expert hands of Déco Surfaces installers. Let us weave the perfect symphony of aesthetics and functionality into your living space. Contact us today to share the secrets of your project, and we'll bring the harmony of your vision to life. Together, we'll create a timeless work of art that reflects the essence of your home.
All fields identified by an asterisk (*) are mandatory.